Hello anyone! It's been awhile! Hope everyone had a great Halloween!
Myself we don't celebrate it in Denmark (boohoo).
So what did you guys do on Halloween?


I somehow celebrated by buying A LOT of kindle books! (Yay) I bought 15 in total.
Technically I only bought two which is "The Dead house & Six of crows" because from 1 to 13 they only costs 0,00$ on amazon :O!! ~ T

he best part - I had them on my to-read list for awhile now and to get them for free! That really made my day!

So if there's a book which you think sounds awesome and something you want to read and have a kindle reader or iPad with an kindle app then there's no excuse to not get one of those book down below ;)!
But here they are;
The last of the firedrakes by Farah Oomerbhoy (
Goodreads
)
16-year-old Aurora Darlington is an orphan. Mistreated by her adopted family and bullied at school, she dreams of running away and being free. But when she is kidnapped and dragged through a portal into a magical world, suddenly her old life doesn't seem so bad.
Reluctant Guardian by Melissa J. Cunningham
(Goodreads)
Guarding Brecken Shaefer-a dark and dangerous rebel-is harder than it looks. Death was nothing like sixteen-year-old Alisa Callahan thought it would be. Resting on pink, fluffy clouds for eternity with her gram and best friend sounded like a dream come true. After all, enduring one torturous experience after another in her short life deserved some kind of reward, right? Unfortunately, eternal rewards aren't given out so freely when you take your own life. Required to pay the debt for committing suicide, Alisa must become a guardian
The rising by Terra Harmony
(Goodreads)
Seventeen-year-old Serena is the youngest member of a dying race. The increasing acidity of the ocean is destroying her home, slowly eating away at the once thriving underwater landscape. But since the night of Serena's birth, it is an outside force that most threatens their dwindling population. Werewolves, who once served as protectors for mermaids in the Kingdom of the Undine, now seek to eliminate all who dwell in the ocean — and Serena is about to find herself right in the middle of the deadly conflict.
Finding Cinderella by Colleen Hoover
(Goodreads)
A chance encounter in the dark leads eighteen-year-old Daniel and the girl who stumbles across him to profess their love for each other. But this love comes with conditions: they agree it will only last one hour and it will only be make-believe.

When their hour is up and the girl rushes off like Cinderella, Daniel tries to convince himself that what happened between them only seemed perfect because they were pretending it was perfect. Moments like that with girls like her don't happen outside of fairytales.
Thrall by Jennifer Quintenz
(Goodreads)
Braedyn is a normal girl just trying to survive high school with her two devoted friends, Royal and Cassie. Together they're doing a pretty good job of shrugging off the slings and arrows cast their way by the popular crowd when a new boy, Lucas, moves into the house next door. Suddenly Braedyn finds herself falling in love for the first time.

Bound by Kira Saito
(Goodreads)
Sixteen year old Arelia LaRue lives in New Orleans where the music is loud, voodoo queens inhabit every street corner, and the ghosts are alive and well. Despite her surroundings, all she wants is to help her Grand-mere Bea pay the rent and save up for college.
A job from hell by Jayde Scott
(Goodreads)
The moment Amber starts her summer job in Scotland and sets eyes upon Aidan, her fate is sealed. Summoned by an ancient bond, she can never love another. Lost in the woods one night Amber enters Aidan's deadly world when she unknowingly participates in a paranormal race and promptly wins the first prize...a prize worth killing for.
Saving angel by J.L Weil
(Goodreads)
I couldn't help but wonder what my life would be like if we had never moved to the ho-dunk town of Spring Valley, Illinois. Sure the internet service is splotchy, there is nothing but miles of wheat fields, and I probably wouldn't be faced with death at every corner.

My only neighbor in this god forsaken town is…well, there really is only one to describe him—hot as hell. With his sinful dark looks, unusually silver eyes, and kissable lips, there is something about him that is more than meets the eye.
Eternal vows by Chrissy Peebles
(Goodreads)
Never marry a stranger... even if he is a drop-dead gorgeous immortal king.

Never pretend to be a princess.

And most importantly... never slip on an ancient wedding ring you know nothing about.
Branded by Keary Taylor
(Goodreads)
Jessica's had the nightmares for as long as she can remember. Nightmares of being judged for people who have died, of being branded by the angels. Her friends and family think she's a crazy because of it all. Yet she carries the mark of the condemned, seared into the back of her neck, and hides it and herself away from the world.
Runes by Ednah Walters
(Goodreads)
Seventeen-year-old Raine Cooper has enough on her plate dealing with her father's disappearance, her mother's erratic behavior and the possibility of her boyfriend relocating. The last thing she needs is Torin St. James—a mysterious new neighbor with a wicked smile and uncanny way of reading her.
The Faerie Guardian by Rachel Morgan
(Goodreads)
Protecting humans from dangerous magical creatures is all in a day's work for a faerie training to be a guardian. Seventeen-year-old Violet Fairdale knows this better than anyone—she's about to become the best guardian the Guild has seen in years. That is, until a cute human boy who can somehow see through her faerie glamor follows her into the Fae realm. Now she's broken Guild Law, a crime that could lead to her expulsion.
UnEnchanted by Chanda Hahn
(Goodreads)
Mina Grime is unlucky, unpopular and uncoordinated; until she saves her crush's life on a field trip, changing her High School status from loser to hero overnight. But with her new found fame brings misfortune in the form of an old family curse come to light. For Mina is descended from the Brothers Grimm and has inherited all of their unfinished fairy tale business.
Which includes trying to outwit a powerful Story from making her it's next fairytale victim.
The dead house by Dawn Kurtagich
(Goodreads)
Part-psychological thriller, part-urban legend, this is an unsettling narrative made up of diary entries, interview transcripts, film footage transcripts and medical notes. Twenty-five years ago, Elmbridge High burned down. Three people were killed and one pupil, Carly Johnson, disappeared. Now a diary has been found in the ruins of the school. The diary belongs to Kaitlyn Johnson, Carly's identical twin sister. But Carly didn't have a twin . . .
& Six of crows by Leigh Bardugo
(Goodreads)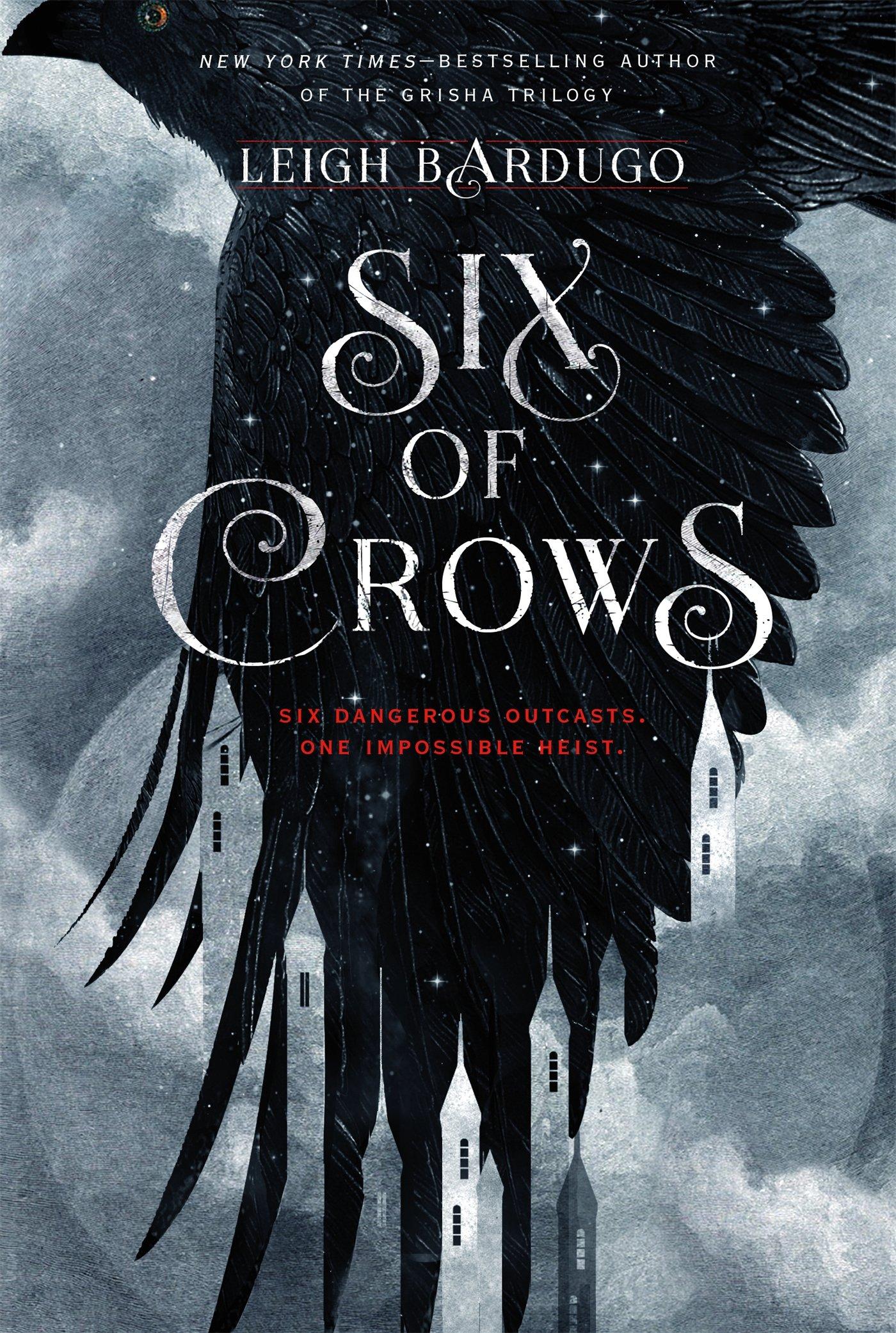 Ketterdam: a bustling hub of international trade where anything can be had for the right price—and no one knows that better than criminal prodigy Kaz Brekker. Kaz is offered a chance at a deadly heist that could make him rich beyond his wildest dreams. But he can't pull it off alone...
Happy reading!